About Nina and Ellie

Nina Cole
I am a passionate animal welfarist and founder of Nina's Nannies for Pets, an award-winning pet, and home sitting service, which was founded in 1998, shortly after my husband was diagnosed with multiple sclerosis and I suffered a brain hemorrhage six months later.  It was during my recovery that I decided to realise my dream of working with animals and within two years, my business was thriving and expanding.  Sadly, my business was decimated by covid last year and I decided to explore other avenues with my newly adopted Cockapoo Ellie
A puppy was never on our agenda, certainly not at my age – since as any puppy owner knows, they can be extremely hard work with sleepless nights, toilet training, teething which usually involves chewing copious amounts of slippers, shoes etc and eyes required in the back of your head.  Your life can literally turn upside down, but when I saw Ellie on the rescue website, it was literally love at first sight.
About Ellie
A little rescue cockapoo
Best friend to Nina, Ellie loves their days out together, cuddles on the sofa, and posing for selfies!
Ellie may have come from a puppy farm, but she is no commoner and is used to the very BEST. She is a real little diva, which is reflected in her lifestyle and the products she uses.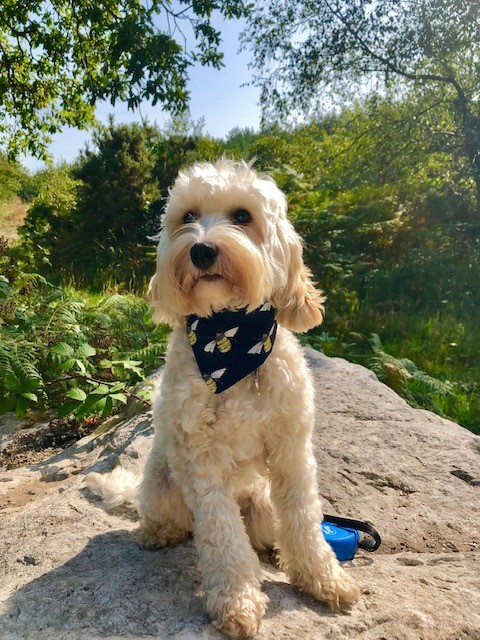 About Nina
After working in promotions for a good chunk of her adult life, Nina has a wealth of experience in the area of PR, and combines it with her 23 years in the pet industry, running a successful sitting business.
Nina has also studied captive wolf behaviour in Whipsnade Animal Park, growing up with all different types of animals, and a real passion for pooches in particular!
Extraordinary Experiences
Nina has triumphed over adversity throughout her adult life. She suffered a bad car accident aged 21, her husband was diagnosed with Multiple Sclerosis when he was 42, and 6 months later Nina had a brain hemorrhage and very nearly died.
It was during recovery from this that she decided to follow her dream of working with animals, and give informative value to others.

Find Out About PR Opportunities

Recent Writings
Follow us over on Instagram!  @WhenNinaMetEllie