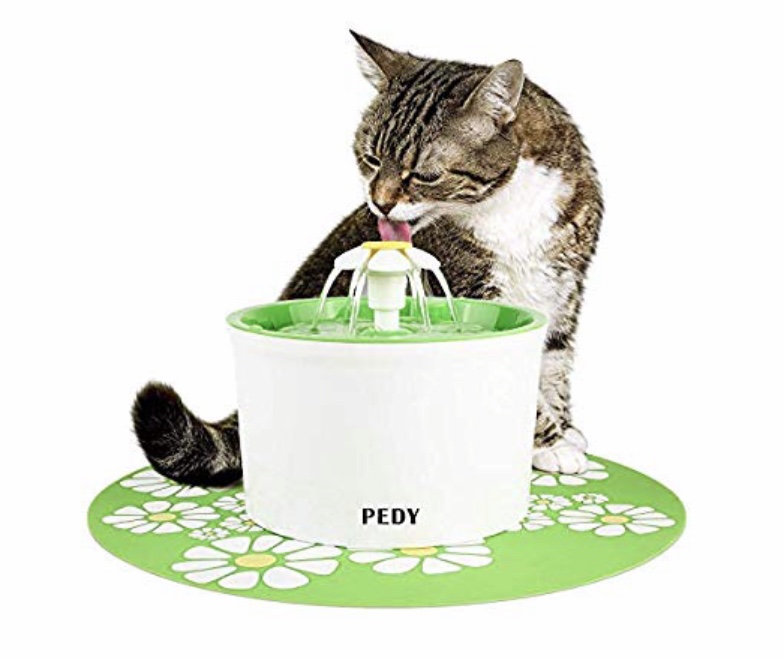 Description
The fountain is made of ABS plastic which is safe for your cats and the charcoal filter promises to keep the water clean and healthy.
It is extremely quiet and the automatic circulating water and 1.6 capacity helps to ensure that your pet drinks regularly.
Package
1 x Pet Water Fountain
1 x Flower Mat
1 x AC Adaptor with a UK Plug
1 x Charcoal Filter
Instructions
There are numerous water fountains on the UK market, each providing a continuous stream of fresh water. Since all three of my cats are used to drinking water on a high surface (away from our dog), I wanted something that was not bulky and would fit onto our kitchen ledge.
It has has a steady trickle of water which our cats love, it is easy to assemble and takes up little room. It also ensures that the water is clean and there is a maximum line which helps to prevent overfill.
The silicone mat is easily foldable for smaller spaces and brilliant for spillages and its little yellow petal makes it quirky looking and attractive to look at.
Cleaning
It certainly is easy to take apart and clean, which I do on a regular basis since I have three cats, and the drinking well can get rather dirty. I hand wash the drinking well, spout and flower top, since I would not trust the parts in the dishwasher and the actual petal spout is quite delicate.
Summary
Pedy is easy to take apart and clean and you can buy the filters separately, which are available online. It has three different settings which are ideal for picky drinkers and offers maximum oxygenation for fresher, better-tasting water.
This fountain retails at the majority of good pet stores and normally retails at approximately £18.99 on Amazon with free UK delivery, which compared to other similar fountains of the same specification, is extremely reasonable.
Since writing this review in November 2018, this product has broken and we are currently looking for a replacement. Would I expect it to break down after sixteen months, maybe not, but then it was what I would call a cheaper purchase. Would I buy it again? Probably not, but the cats loved it.