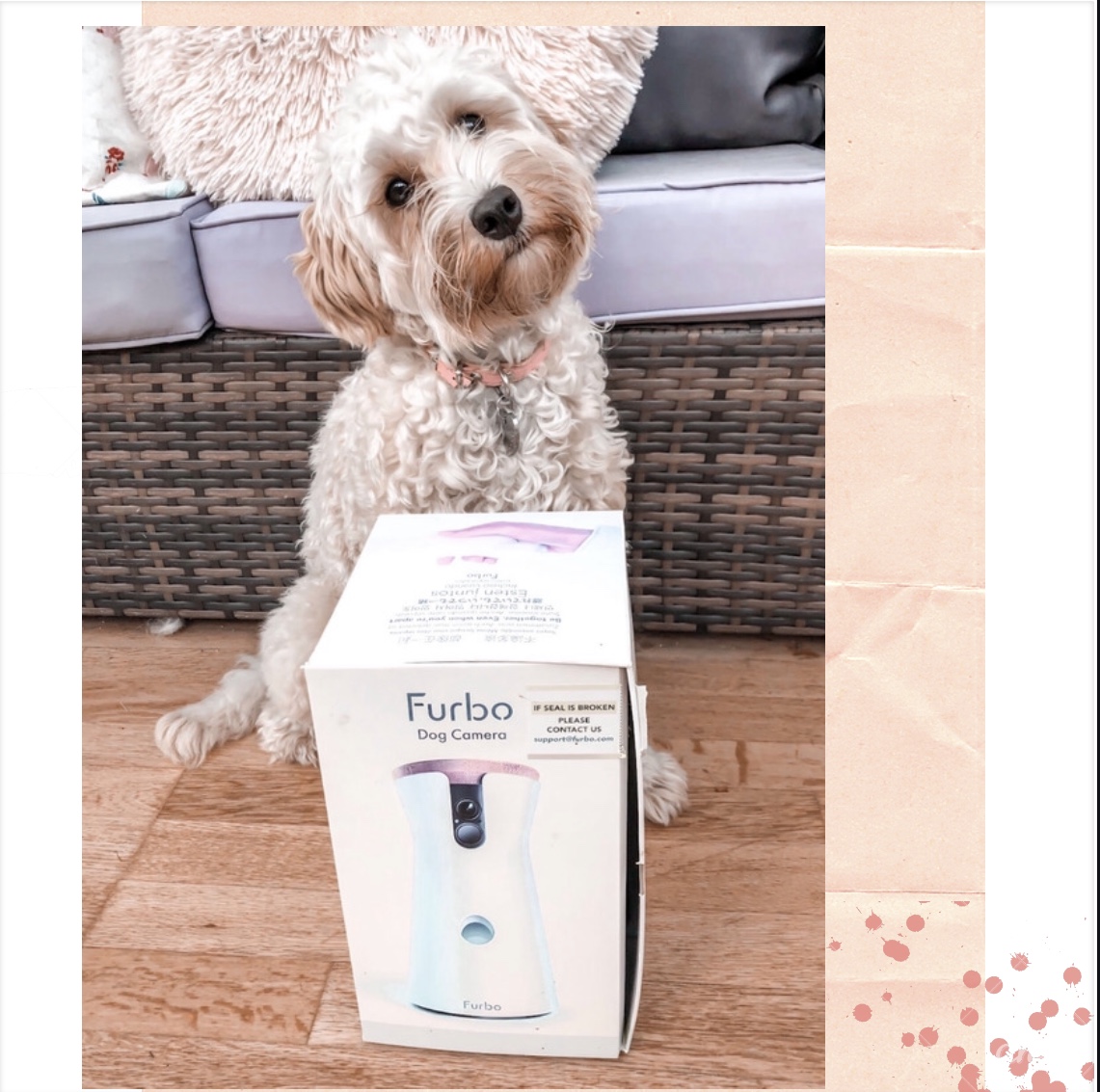 When I was sent this camera to review, I initially experienced some difficulty connecting it to my phone, since the blue tooth connection was unstable. However, after changing my broadband provider I downloaded the app again and this time it connected straight away.
Appearance
The Camera itself is aesthetically pleasing and is small enough not to look out of place in any room. It is well made and sturdy enough not to be easily knocked over.
Its base is white with a wooden lid which is secure but easy to remove to replenish the treat. It also comes with a bag of wrapped biscuits, which you dispense from the app on your phone.
The USB cable is also long enough, so you can place the device pretty much anywhere you want to, but you should be mindful that the camera sits up from the bottom and is fixed, but the angle is wide and the picture is of great quality, so your dog should be picked up wherever he is in the room.
Furbo App
The app is easy to install and comes with a pre-recorded message which activates before you dispense the treats. You can however record your own greeting, which will alert him from wherever he is in the room.
Training Video
In the training video it suggests that you first get your dog used to the sound it makes before dispensing the treats, but in truth Ellie is a bright girl and she worked out quite quickly that the sound was a precursor to the treats popping out of the dispenser.
In the training, it only shows one treat being dispensed, but in reality, it is more like 4 – 5. This could be because the treats I used and the ones that come with the Furbo are quite small, so I am going to try larger ones in the hope that just one is dispensed, since I do not want Ellie to put on weight.
If you are planning on being out for any length of time, I would strongly suggest trying larger treats, or deducting that amount from your dog's food each day, ensuring that they are not overfed.
Voice commands
The really cool thing about the Furbo is that you can actually speak to your dog remotely and dispense a treat from the app. The treat is shown on the screen and all you have to do is to swipe up for it to be activated.
Personally, I would first try the Furbo from another room, since some dogs may be a little spooked by hearing your voice through the device. Again, Ellie was unperturbed, but I have yet to try the camera while we are out.
I should stress that I work from home and my husband is retired, but it is comforting to know that if we do have occasion to leave her even for a short time, we can check on her and speak to her from the app on our phone.
Adjustments
Once you have completed your dog's profile, you can adjust the settings to suit, such as the video quality, volume, change the time zone and record your voice which activates before dispensing the treats.
As I stated at the beginning of this review, I initially experienced problems setting up the app due to Bluetooth instability, but this was a fault with my connection and not the camera itself.
Camera
Our pets are extremely precious to us and there is no doubt that the 24 hour functioning camera allows you to observe their behaviour, eating habits. Any sign of illness or stress, even when you are in another room. The device can also link up with social media platforms allowing owners to share videos and pics of their pets.
Pros
It takes a video and pics of your dog
Live HD Video Streaming
Interactive Treat Dispensing
2 way audio
Night vision
Social media sharing
Barking alert
Easy to use app
2 way talk
Wide lens 160 degree angle
Cons
It could encourage people to leave their dogs longer than they should
The camera is fixed and does not move
It's a little pricy retailing at £249.00, although cheaper on Amazon
It does not have the capacity to function on batteries
Summary
The Furbo is a great way to stay in touch and interact with your dog while you are either out of the room or the house.
It has some great features that set it apart from its competitors such as the treat dispensing facility.
Disclosure
Although I was not financially rewarded for posting this review, it was gifted for review purposes.
This review was in no way biased towards the company and are completely my own based on my experience of the product.