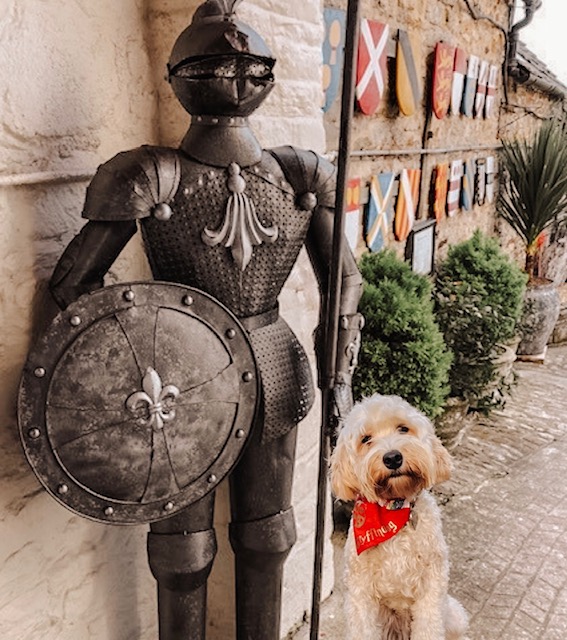 Corfe Model village is located right in the heart of the village, on the Isle of Purbeck with Poole, Bournmouth and Weymouth within easy reach.
I have visited the Corfe village many times, but not once had I visited the model village and since we are now living just a few miles away, I decided to explore it with my little rescue dog Ellie.
Courtyard cafe
I loved the little Courtyard Café who despite Covid restrictions, made us both feel extremely welcome. Although Ellie was not permitted inside, our lunch was ordered from and brought to our table.
I noticed that the cream teas were extremely popular, as were the scones, which are actually baked on the premises. They are made by Jessica's Farmhouse Cakes who are based in Bridport and have no additives or genetically modified ingredients. The majority of their produce is sourced locally, and the herbs and salad are home grown in the summer months.
There was a bit of a wait until lunch was brought to my table, but due to skeleton staff, they were multitasking and the lady who brought my lunch to the table, also took my entrance money into the model village.
Corfe castle
I often pass Corfe Castle on my way into Studland but visiting the model village really gives you a great insight into its history. It was Cromwell's vengeful army who destroyed the castle during the Civil War and the model village shows you exactly what it looked like before its destruction in 1646.
The model village and gardens also boast giant games, a punishment area consisting of stocks and pillories, a little wildlife garden, two life size soldiers which guard the castle and a beautiful little fairy garden.
This is an attraction which will be enjoyed by children and adults alike and it will not break the bank either. Adults pay £4.20 and children £3.00 a ticket. Children under four years are free and there are concessions for people over sixty years of age.