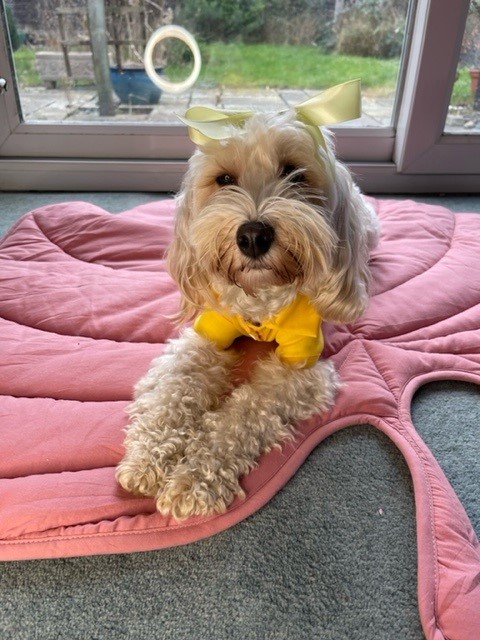 We have reviewed numerous dog blankets for various pet companies, but I have to say that the heart-shaped dog mat from a company called Funny Fuzzy is really quite unique and makes a fabulous present for Valentine's Day.
I chose the pink anthurium colour and I love its quirky design which lends itself to any modern home interior, as well as being a blanket that your dog will love. They also do a leaf shape dog blanket and like the one, I have reviewed; it comes in four different colours. Ginko yellow, elm green, anthurium, and pinecone grey, and its size lend itself to any large pup.
It is extremely versatile in that it can be used as a dog crate mat, on the back of a car seat, or as Ellie's favorite which is her go-to place a dog blanket for the living room sofa or chair. The other bonus is that it is 100% cotton and has a beautiful luxurious touch. I love that it is machine washable as anything that Ellie touches gets extremely grubby after a while and dry cleaning can prove extremely expensive.
Sometimes washing can stretch products out of shape, but this held beautifully and looked as good as new once dried. As with all machine-washable products, I would strongly advise that you follow the guidelines and don't forget to use pet-friendly detergents. This will stop any itching which may occur when using regular human detergents.
The company also recommends buying the matching donut bed, dog tepee, and the three items together which form the Sweet Dream Sleeping Set.
I do rather like the reflective all-weather waterproof dog raincoat, since this is something that I have been looking at for Ellie. I have tried a couple of raincoats from other companies, but I rather like the look of this one since it is definitely on trend for the pup who wants to get ahead in the fashion stakes.
Funny Fuzzy is a fledgling company based in the UK and their products are all designed on basic, simple, and practical principles which stem from their years of experience in the pet product industry.
Their website is easily navigated and their checkout system is so simple to use. I am also impressed by the wonderful internet reviews which speak loudly of a company's reputation.