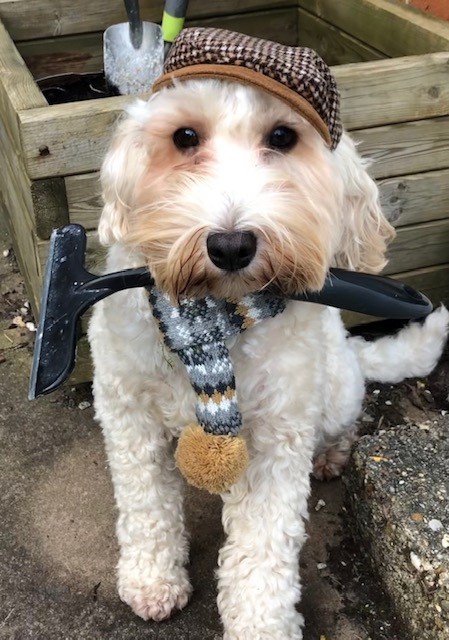 Let's get something straight before I go any further.  I am not a fan of dressing dogs per see. Yes it looks cute on Instagram and I am certainly guilty of this when creating content for the brands that Ellie and I work with, but we should not forget the hazards of dressing dogs for everyday wear and outings.
Disadvantages of dressing your dog.
On a practical level clothes can irritate and chafe at the dog's skin and unlike us, a dog cannot adjust or rearrange their clothing. More importantly, there are the psychological implications. There is no doubt that it is not natural to dress up your dog. By doing so they lose their ability to communicate and other dogs could struggle to read their signals. Ellie is happy to tolerate clothes for a photo shoot, but the only attire she wears outside is a jacket to keep her warm on a winter's day.
Breeds who suffer.
There are some breeds of dogs that do not have the luxury of a heavy coat such as the Whippet or Greyhound. They naturally have a smooth coat and most definitely benefit from wearing a coat or a warm sweater when venturing outside.
Ellie being a Cockapoo has a naturally woolly coat, but it is kept short to avoid matting and without something warm to wear on chilly days, she will shiver violently.
Finding comfortable clothing
Just like a human wearing clothes, so your dog should be measured, to ensure that a coat/sweater is not ill-fitting.
You should start by taking your dog's measurements, so as not to restrict their movement. Beware of any dangling material and check that there is room for the leash to be attached when wearing a coat or sweater.
Anxiety vests
These have become extremely popular for people whose pets have a fear of loud noises, since they have a calming effect for all kinds of anxieties.  The Thunder shirt is ideal especially during thunderstorms and firework night.  As with other forms of attire however, it should be a gradual introduction in order that a dog becomes accustomed to wearing it, rather than throwing it on as and when required.
Instagram trend setters
There are many dog accounts that set the fashion trend on Instagram and have literally thousands of followers. One in particular springs to mind called Tikatheiggy, who is a nine-year-old Italian Greyhound, who quite frankly, puts my wardrobe to shame!
It is so important that your dog's personality shines through and with mine and Ellie's account, her sense of humour is paramount. What? you never thought that a dog could have a sense of humour! Think again, since Ellie has it in abundance. It manifests in everything Ellie does which is why I am constantly smiling.
Pet Influencers
Instagram and social media are overflowing with dogs and cats donning all manner of attire, especially during the holiday periods such as Christmas and Halloween.  As a pet influencer, Ellie and I focused on the popularity of the spooky season, donning our Harry Potter costumes which created huge interest in our account.
I should state however, that Instagram influencers, do not solely consist of people dressing their pets for acknowledgement and many like Tina Acosta, who is a breed ambassador, like Ellie and I, are keen to promote a positive outlook for the breed that she cares for.
Some will say that Instagram is overflowing with cute animals but hey, we all love them – right?