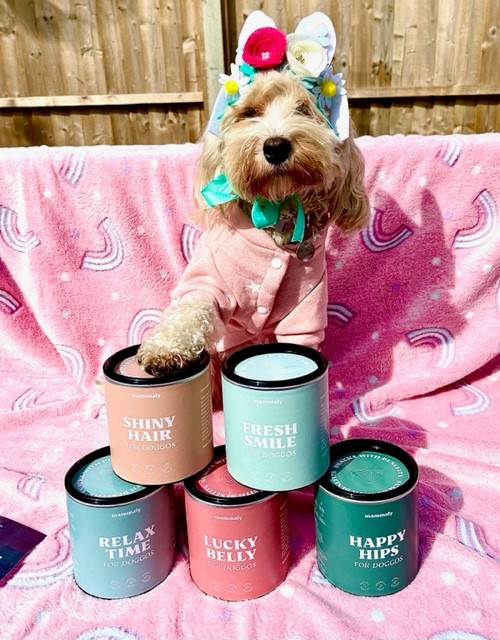 While most of us understand the importance of feeding our dogs a healthy diet, treats can often get overlooked and with so many to choose from, it is all too easy to grab and go. Talk to any veterinarian or nutritionist, however, and they will stress how treats play a vital role in keeping our dogs healthy. For example, too many can lead to obesity, not to mention the hidden nasties such as colourants and ingredients like soy, wheat or corn that are common triggers of canine allergies.
Just like their human owners' dogs love to snack and treats are a wonderful way to reward your dog for good behaviour and aid in training.
Why chose Mammaly
Mammaly is a company owned by dog owners, for dog owners. Formed in February 2020 in Germany, the treats contain high-quality ingredients that were developed by some of the countries leading veterinarians. Dr.med.vet.Urban Thelen was an advisor to the Ministry for the Environment and Nature Conservation NRW, with over thirty years experience of in nutrition and dietetics. He regularly recommends Mammaly products to support the health and wellbeing of dogs.
The importance of nutrients in a dog's diet
Our dog's health is paramount and maintaining a good healthy diet is essential if they are to live a long and healthy life, which is why I am extremely particular with what I feed Ellie. When I was approached by Mammaly for Ellie to trial their range of treats, I was assured that they were made with the best quality ingredients and developed to target specific areas, which are evident on the front of their packaging.
Lucky Belly
Supports the digestive system
Enhances the adjustment of the intestinal flora
Improves output
Strengthens the immune system
This was the first of the treats that Ellie tried and she was quick to dive in. I love that they contain probiotics that support healthy digestion and help to prevent a rumbling tum.
Shiny hair
Supports the skin barrier
Promotes a shiny coat
Strengthens the immune system
Contains biotin and hyaluronic acid
With this type of ingredient, I feel almost tempted to try this myself!
Once again Ellie was quick to dive in as soon as the lid was open and trust me, Ellie can be extremely particular with certain foods.
These treats also contain probiotics that support cuddly soft fur and healthy skin
Relax time
Offers reassurance in stressful situations
Helps with inner balance
With no habituation effect
Contains valerian
Now, if anyone has a Poo of any type, but especially a Cockapoo, you will understand that they are high energy dogs and the thought of enjoying just a little downtime quite appealed, so I was keen to see if they indeed did offer a little relaxation time.
In truth, I haven't yet seen a huge difference, but as with all treats, Ellie enjoys them when training or rewarded for good behaviour, so I use them sparingly.
Fresh smile
Promotes dental health
Counteracts tartar formation
Enhances fresh breath
Strengthens the flora of the mouth and the immune system
Ellie particularly enjoys these treats and anything that helps prevent tartar formation is an added bonus since she is really not fond of having her teeth brushed, even though it is endured.
Happy hips
Strengthens bone structure
Supports the muscle and skeleton system
Enhances the vitality of your dog
Contains green-lipped mussel and hyaluronic acid
These treats contain everything a dog needs to promote healthy bones and Ellie greeted these as she did with the rest in the collection, with real gusto and managed to upend the tin, sending the treats sprawling to the floor. Thankfully we were able to scoop up the contents, allowing four to be devoured, so this shows how tasty and appealing they are.
Summary
These really are treats with a purpose and Ellie quite obviously loves them.
They are quite expensive at £16.40 per 100g, but with high-quality ingredients that are designed to improve your dog's health and wellbeing, I think it's a price certainly worth paying. The reviews certainly support this since they regularly score five out of five on each product in the range.
We are early on in testing, but I will certainly track Ellie's process by doing a follow up in a few weeks, especially with the 'Lucky Belly', since she can suffer a little with her diet, which can result in slight diarrhoea from time to time.
Ellie has already recognised the tin colours and I am sure that her verdict is a definite five out of five. You can order directly from the Mammaly website.