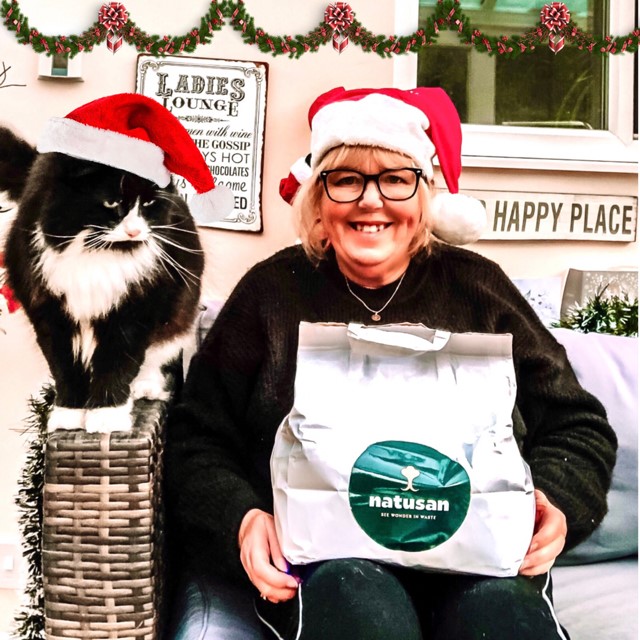 Of all my reviews this year, on a practical level, this was the most impressive product by far.
I have worked in the pet care industry for over twenty-three years and tried numerous types of cat litter.  Sawdust, clumping, non-clumping, crystals, clay litter, wood shavings, scented, unscented and even shredded newspaper, but Natusan is by far the most superior I have ever tried.
The two bags I initially received were unbranded, which was a shame since I like to video my reviews on Instagram before they go onto my blog.  Now however, I have the branded bag, which is quite a simple design, depicting a tree, with the company name underneath, on a dark green background. 
Litter
It is made up of natural wood, with a very pleasant smell.  It is an light-clumping litter, making it extremely easy to remove.  When soiled there is no unpleasant odour, unlike my previous litter, which was so acidic you needed a face mask to protect your nose and mouth. Neither did it stick to my cat's paws, meaning there was little or no spillage when the cats were leaving the tray.  Another advantage is that there is no need to scrub the tray at regular intervals, especially if you opt for their full service, since the company provides a new one each month.
Service
This is the first subscription service for cat owners in the London area. The process of ordering is simple: Natusan will deliver to your door each month and collect the soiled litter the following month when it is replaced with fresh. It is then composted and turned into fertilizer, meaning that none is wasted.
The company has also partnered with UK charity Trees For Cities and supports them in planting thousands of trees in the London area.
I did enquire as to the likelihood that this service may be available outside of the capital and it seems that this is their goal, to roll out the service in other areas of the UK.
Cost
The bag is an average size, containing enough litter to comfortably fill a small tray.  I have three cats and two large trays, so two bags were required.  You can buy it directly from the company website from £16.00 or subscribe and save 5%.  You also receive free shipping on orders over £30.00  It may not be the cheapest cat litter on the market, but one bag goes a long way and unlike other products on the market, there is a lot less waste.
Subscriptions
You currently have two options with Natusan. You can opt for the full kit which consists of the litter bags, tray and cleaning accessories, or if you prefer to stick with your own utensils, just have just the litter bags.
Pros
It is 100% natural and biodegradable, meaning there is 65% less waste.
They have a collect and compost subscription (although this is currently only available in London).
A tree is planted for every customer that subscribes to their service.
This cat litter once used, has absolutely NO Odour and the first thing you notice when opening the bag is how lovely it smells.
One packet will comfortably fill an average size litter tray and last for at least a month, which justifies it slightly higher retail price.
It clumps well, leaves no waste behind and is kind to your cat's paws.
There is very little spillage when your cat leaves the litter box.
Once the urine hits the litter it is very quick to clump and is therefore easily removed.
Cons
To be honestly, I am struggling to find any downside to this product, other than its 'dop off' and 'collection' service which is currently only in London and has yet to be rolled out to other counties. I do know however, that this is something that the company are hoping to rectify.
Natusan have very kindly given us a code WHENNINAMETELLIE, which you can use at the checkout to obtain a 10% discount. Don't forget to follow us on Instagram