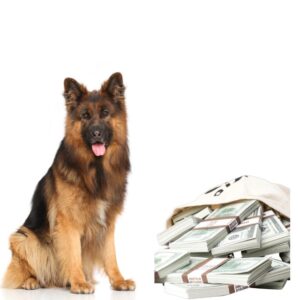 Money-saving tip for your pets
Keeping a pet is expensive. The PDSA calculated that the average medium size dog would cost approximately £27000 during its lifetime and as the recession bites, dog owners are looking to make savings wherever they can, which is why cutting the cost of grooming can literally save you hundreds of pounds each year.
Grooming
Grooming your dog is essential for numerous reasons. A good grooming regime will help to prevent shredding, fleas, ticks, and irritations and can reduce the chances of ear infections. Aside from the health benefits they will actually look and smell so much better and it is recommended that a good groom should take place between 6 – 8 weeks depending on the length of your dog's coat.
Cost of grooming
In the UK grooming prices can vary but as a rule of thumb, a larger breed can cost between £40 – £60, depending on the dog's size, length of coat, and even your location. However, if your dog's coat requires serious attention, labour is extensive so this price can skyrocket.
Even if your dog enjoys the security of pet insurance, grooming is not covered. Policies tend not to cover preventative treatment or wellness costs.
Alternative
There is an easy alternative to professional grooming and that is to do it yourself.
Grooming your dog at home is not only cost-effective, but for anxious dogs, it will save the stress of being separated from their owners and being in an alien environment. When the world went into lockdown, dog owners had little choice but to provide home care and with the correct tools, you can make a huge saving.
Grooming equipment
Having a Cockapoo requires frequent brushing and clipping, depending on whether the coat is curly, straight or wavy.
It is so important that your dog's coat is not neglected, since if neglected grooming sessions can be painful, especially if the fur has become matted, so a regular routine is vital, along with good equipment.
You will require:
A good brush/comb,
Scissors
Shampoo or a bar of soap
Professional dog clippers
Grooming
Having your dog professionally groomed can be extremely expensive and although the initial outlay for professional grooming tools can be costly, they will pay for themselves, compared to the amount saved at a grooming parlour each month.
If your dog's coat is continuously growing, a good monthly clip is ideal. Brushing daily is a must to keep your dog's coat glowing and tangle free, whereas a good bath as and when required (usually once every 4 – 6 weeks), depending on the length and type of coat.
Savings
If you calculate the cost of grooming a medium size dog, for example, £45 per month, that is a hefty saving of £540 for the year, so the initial outlay of £35.00 is a huge saving. The average life expectancy for your dog will differ from breed to breed, but even over a ten-year period the saving of home grooming will be in excess of £5,400.
Instructions
There are some wonderful YouTube videos that offer advice from professional groomers and taken slowly, you will soon build confidence and the trust of your dog.
Saving on Dog Food
For those people looking to meet their dog's nutritional needs, it is far more cost-effective to buy in bulk, especially if you are buying online.
Prescription food is often extremely costly when purchasing directly from your veterinary surgery, so as with medicines, request a prescription from your vet and buy online, making huge savings.
Go cheaper
If your pets are used to eating premium foods, try shopping around for a diet that is slightly cheaper. There are some really good alternatives if you just read the ingredients and avoid any nasties such as additives and food colourants and do not be afraid to make your own treats, which can be bagged up and frozen.
Preventative care
It is so important to keep up with preventative care such as vaccinations, cleaning and checking teeth, and nails while monitoring your pet's weight. Doing this regularly can cut down on veterinary visits and avoid steep bills.
Look out for any changes in your pet's eating habits such as over or under-eating, sudden weight loss, undue scratching or any unusual changes in behaviour. All of which can all point to early health problems.
For further information on money-saving tips please visit calculator.me