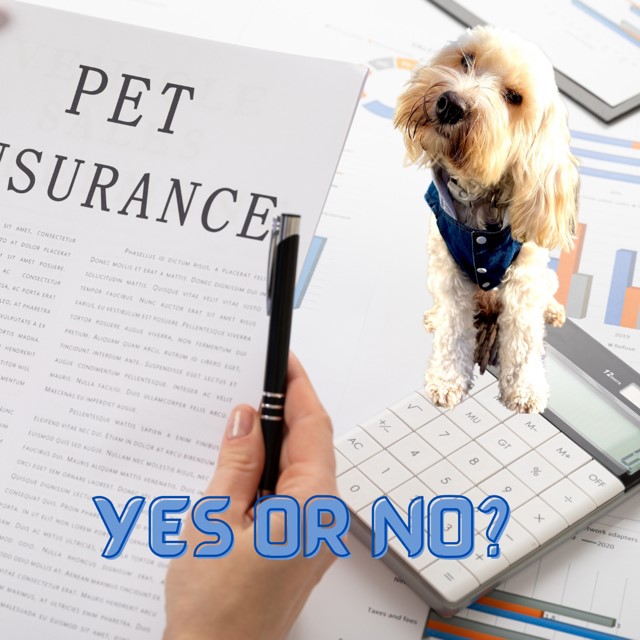 This is an extremely tough question to answer, so let us explore the advantages and disadvantages of pet insurance.
Advantages
We are a nation of animal lovers, and it is our responsibility to ensure that our animals are cared for and that means in sickness and in health. Veterinary treatment is not cheap and with advances in technology, costs continue to escalate. Annual boosters alone start from £48.00 and that is just for the standard booster.
I was astounded to discover that the cost of castration has risen to £256.00 for a larger dog (30-40 Kilos), while spaying for a smaller dog (under 10 kilos), is £267.00. Vets strongly recommend pet insurance and Medivet stressed that lifetime cover was the best since even when your pet reaches a certain age, policies can rise dramatically. Owners are also required to pay up to 50% of the initial veterinary costs in some cases.
However, having pet insurance will ensure that you never have to choose between health care and your bank account, and you will never be in the position of being unable to provide care for an ailing pet. Owners who do not have insurance may have to make the agonising decision to give their pets up for adoption or in the worst-case scenario, euthanise their pet if treatment cannot be afforded.
Disadvantages
You have to remember that not all health issues are covered, for example, policies will not cover any pre-existing problems such as those pets who are currently receiving treatments before insurance was undertaken.
Annual boosters and neutering are not covered, and neither are certain genetic conditions such as hip dysplasia which is common in larger dogs such as Labradors and German Shepherds. Some companies also set an age limit for enrolment, and this varies from company to company.
Other benefits
When comparing insurance premiums, you will find a huge spectrum of what is and isn't covered and you may be surprised to know that some policies help with advertising and reward costs should your pet get lost or stolen.
It is also worth noting that you may find that some policies cover complementary therapy such as hydrotherapy, homeopathy, and behavioural issues.
Savings on treatment
Having pet insurance will be beneficial if your pet has an unexpected illness or accident. However, there will be an excess, and this will fluctuate depending on the age of your pet. Do not be tempted to skip over the terms and conditions of the policy since this can be costly especially if you do not check that the policy has lifetime cover.
There are usually different levels of cover starting from as little as £6.88 per month, right through to advance cover, which in some cases will include alternative treatment such as hydrotherapy and animal behaviour as mentioned above.
As the owner of two cats, two of which were diagnosed with overaction thyroid (sadly lost our eldest cat earlier this year), we have found that paying for a vet's prescription and buying medicine online, has been hugely cost-effective.
A 30ml bottle of Thyronorm purchased through the veterinary practice costs £53.00, while online the price drops considerably to £18.00. That is a huge saving of £32.00. A larger bottle online will be a far greater saving, especially when your pets are on long-term medication.
The cost of treating exotic pets such as Bearded Dragons, or an African grey parrot, can run into hundreds or thousands of pounds, hence you really should carefully consider the type of care required.
Pet business insurance
Having worked in the pet industry for over twenty-three years, I cannot over-emphasise the importance of pet business insurance. Whether you run a boarding facility, pet taxi service, hydrotherapy unit, dog walking, or pet sitting, or should have insurance in place.
One of the biggest mistakes with startups, is failing to research your industry, since the responsibility of caring for people, and pets are enormous and presents risks, so choosing the correct insurance is vital. For example, your local authority may require boarders, be it in-house, or a cattery/kennel to have comprehensive insurance and if you employ people, it is a legal requirement to have liability insurance.
In cases where pet owners were unhappy with the standard of care provided, or if their pet suffers an injury whilst in the supervision of a trainer, boarder, etc. the possibility of court action could severely disrupt, or even bankrupt a business.
Types of professional insurance
Public liability insurance protects individuals against pets that harms another person, cause an accident or damage property.
Employers liability
For a company that employs staff it is a legal obligation to ensure that public liability is in place which will cover you in the case of claims by or relating to one of your employers.
Professional indemnity
This type of insurance will protect people if a pet is injured, stolen or lost in your care. This will also cover any damage to their client's property or if keys are lost to their house.
Summarise
On balance and especially as the cost of living continues to spiral, I would say that pet insurance is still required, however, I do feel that insurance companies should implement a 'no claims bonus', in line with almost every other policy i.e., car, house insurance. As it stands, there seems to be a blanket bias against older pets.
The company I hold my cat insurance with starts to penalise owners when you're your cat reaches ten. They implement a £99.00 upfront charge and you must contribute the first 22%. In the current economic climate, this remains unaffordable to many dog/cat owners, some of whom are forced to surrender their pets since the costs of pet insurance remain unaffordable.
My advice would be to shop around and do your research before buying. Look at the small print and scrutinise the policy thoroughly before buying. Do a comparison on sites such as Compare the Market and of course if you like saving, you could always put a sum by each month should veterinary treatment be required. However, be mindful that although this sounds an attractive proposition, even younger pets can fall ill and treatment can spiral, leaving your rainy day fund, severely lacking.