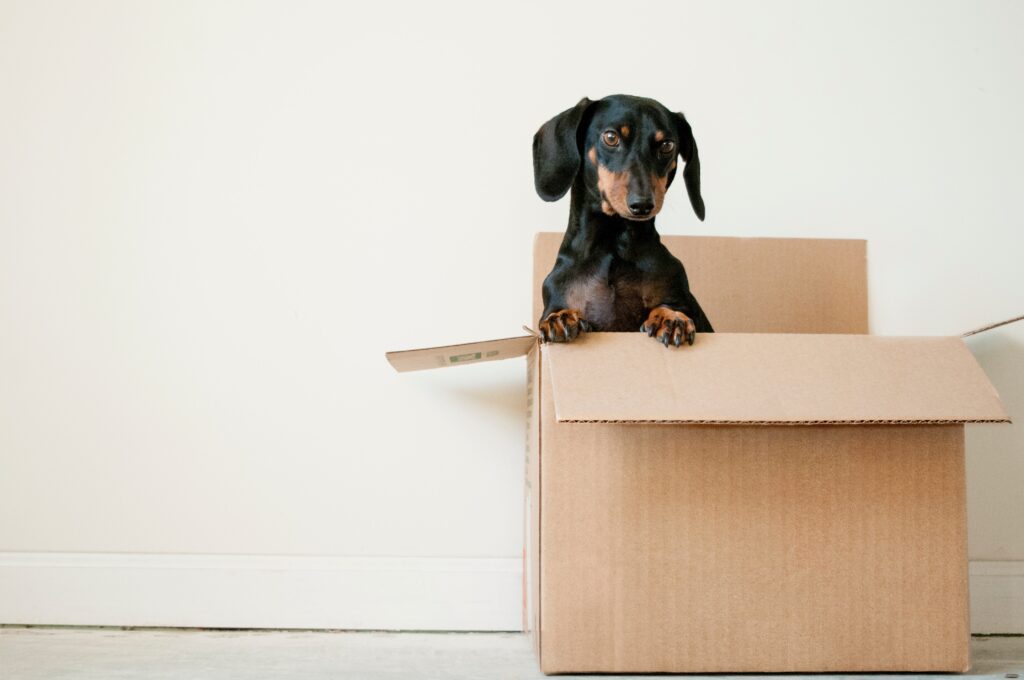 Routine
It can be extremely upsetting for any dog when their regular routine is disrupted, therefore it is important to maintain as much normality as possible around moving home.
Try to keep packing confined to one room and leave your dog's belongings until last. As with cats you should check that your dog's collar and microchip are current. If the worst happens and your dog escapes during the move, at least they can be reunited with their owner
Moving day
As with cats, you can always board them until the move is over, but if you decide to keep your dog with you, finding a safe space where they cannot escape is key. Tell your removal men, that they should leave that room until last, and just to be absolutely sure, you can always put a note on the door. Do not forget to check on them regularly and leave fresh water and their bed, to keep them comfortable until it's their turn to leave.
Preparation
It is wise to keep your dogs' belongings including food, treats, lead, toys, etc. in one bag which is accessible once you arrive at your new property. They will hold the scent of their previous surroundings and offer comfort while adapting to their new routine. Try to keep to their regular mealtimes and take the time after the move to walk him/her around their new neighbourhood, allowing them the opportunity of getting used to the new sound, sights, and smells.
Dog proofing your new home
Once you have decided on your new home and contracts have been exchanged, you should check thoroughly for any escape holes in your new garden. The outside area should be free of any sharp objects, glass, or other offending items that could pose a threat to your dog. This should include any toxic plants or flowers. Moving home is stressful enough without worrying about exercising your dog in their new garden without ensuring it is secure. It does take time to settle your dog after a move and you want to be sure that they are as safe as possible without you standing guard every time they venture out for exercise or a toilet break.
Security
If you can arrange to spend time with your dog following the first few days of your move, will help them to become familiar with their new environment. Allow them time to acclimatise so they are not overwhelmed.
Introducing your dog to new areas can be rewarding for you both but be aware that new environments can be a little unnerving at first and could cause them to be over-excited. Abrupt changes can be alarming and your dog relies on you to create a safe place as your previous home.
Further resources on moving home can be found here